There's a little chatbot getting a lot of attention right now. Maybe you've heard of it? ChatGPT. Launched by OpenAI in November 2022, this generative artificial intelligence (AI) technology is literally blowing people's minds with its ability to answer prompts by generating full written essays and formulating complete ideas.  
The education community – at all levels – is in a tailspin as it figures out how to accept, monitor and potentially embrace ChatGPT's game-changing capabilities. What's to stop a student from feeding the chatbot its assigned essay questions and submitting the AI-generated responses? What does this mean for the future of individual thought and creativity – and teacher assessment?
Christian Terwiesch, a professor of Would ChatGPT Get a Wharton MBA? to see if the technology was smart enough to pass an exam in a typical Wharton Master of Business Administration course — in this case, his operations

Wharton's Christian Terwiesch.

Wharton Global Youth: We're all talking about ChatGPT, but not everyone fully understands how it works. Why is this such an incredible AI advancement?

Christian Terwiesch: The big new thing here is that it is not an algorithm [responding to] a set of commands. It is a model that has learned patterns and by going through millions of millions of texts [content on the internet] has found a way of predicting in the world of natural language which word will be used next. Just like when you're typing on your computer or on your phone and it makes suggestions of how to finish a word. There's this predictive element in there, and if you train it on enough content, it is able to figure out the rhythm, style and context and make some good predictions on how to continue. It's iPhone text completion on steroids.

Wharton Global Youth: Why did you decide to document how ChatGPT3 performed on the final exam of a typical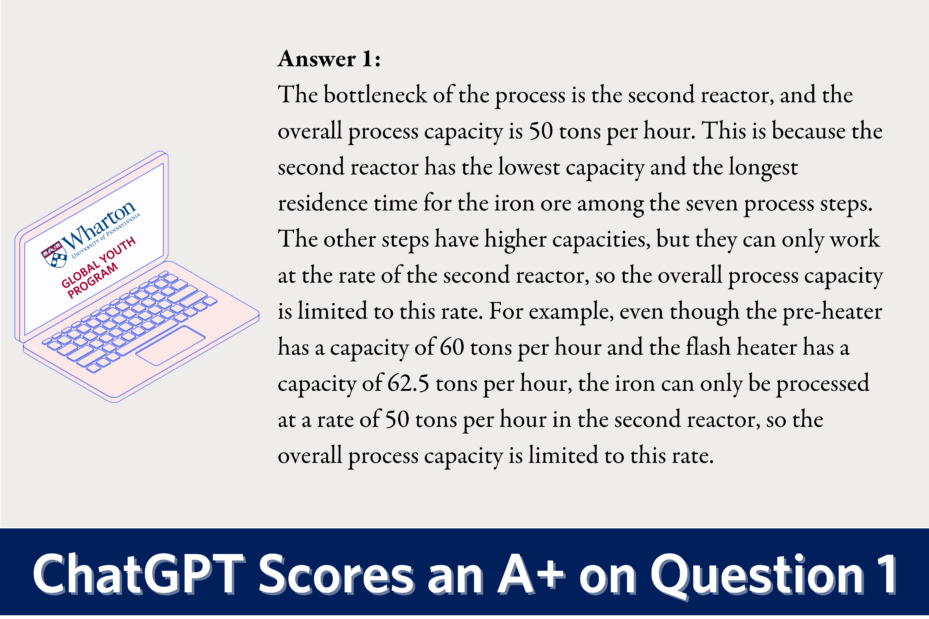 Conversation Starters

Dr. Christian Terwiesch says you should consider using ChatGPT to "generate multiple answers and try to challenge your thinking." How do you feel about this? Do you agree or disagree? Have you done this already? Share your story and ideas about how you are using ChatGPT in the comment section of this article.

Is using ChatGPT to write an essay unethical? Why or why not?

Dr. Terwiesch talks about the power of ChatGPT to ease the information burden in health care. How do you see this technology transforming different industries? Where might generative AI make a strong impact?