The business world often talks about the triple bottom line of people, planet and profits, which is to say a The Prepared Leader: Emerge from Any Crisis More Resilient Than Before (Wharton School Press, 2022), which she co-authored with Lynn Perry Wooten, president of Simmons University. "Prepared leadership is the one determinant that will help you navigate uncertainty – even chaos – in order to shape better outcomes and a better outlook for you and your 💥 Signal detection. "One of our core responsibilities is to pay attention to what's happening in the environment that lets us know that we might be experiencing a smoldering crisis. What are the cues? What are the small, errant issues or problems that seem insignificant, but if we're really paying attention and we're looking at 💥 Learn from the crisis. "Lastly, your responsibility as a leader is to help your organization learn from the crisis," said James. "Make lemonade out of lemons. You must stop to reflect on what you've experienced and what new you have learned. If we don't reflect and learn from the pandemic, for example, then we're not going to be able to take advantage of those experiences to create something new going forward."
Without effective leadership, the impact of any crisis will always be worse, stressed James, who has put her own research to the test since becoming the leader of Wharton at the very start of the pandemic.
Successful crisis management, she added, is related to the work environment you establish. "To me, one of the fundamental responsibilities of a leader is to generate trust within the organization," said James. "That means that you have to demonstrate yourself to be a trusted leader, both competent in what you do and that you communicate truthfully and follow through on the things you say you're going to do."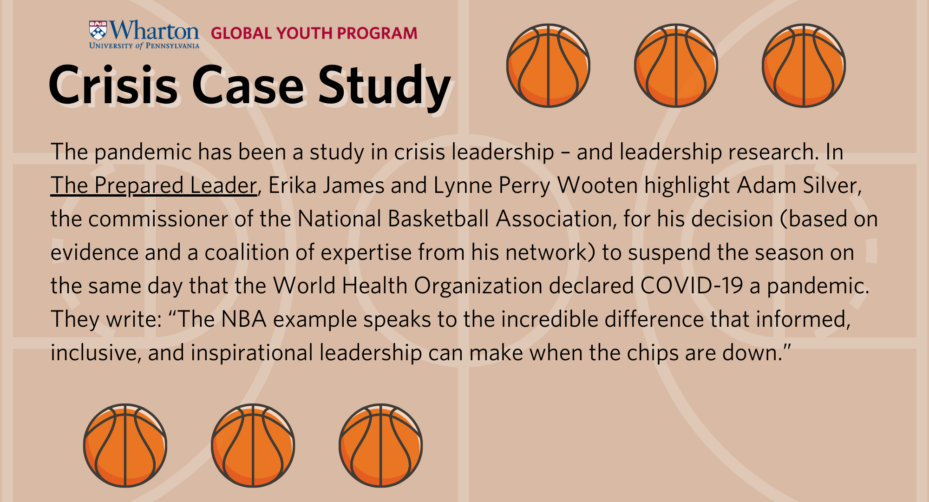 Conversation Starters
What is crisis leadership and why is it so important?

Erika James says, "Your responsibility as a leader is to help your organization learn from the crisis." What have you learned from a recent crisis, either business-related or otherwise? Share your insight in the comment section of this article.
Why does Dr. James say, "Prepared leadership is the one determinant that will help you navigate uncertainty?"